Talking tech in Zambia
By Mac Nzombola
- 12 minutes read
- 2538 words
On September 7th, 2021 the president of Zambia twitted: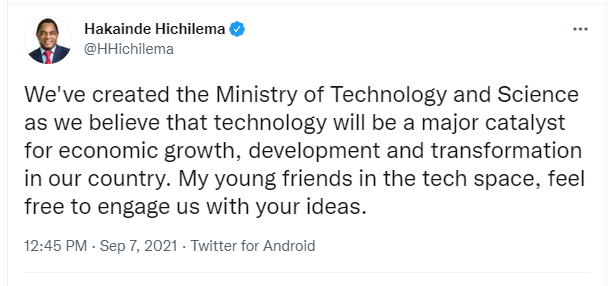 But for any country to be part of the progress and technological innovation happening around the world, it must pay attention to developments in high-tech; both the consumer internet software tech such as Facebook, WhatsApp, Google, WeChat, and the electronics hardware tech producing chips to embed in smart devices: iPhones, Teslas, drones and for 5G roll-out—Zambia is not doing that. If news coverage in a locale is a proxy for what is important, tech is clearly off the radar in Zambia based on stories in leading publications: Lusaka Times, The Mast Online, News Diggers and The Daily Nation. News makers publish pieces or get themselves quoted in these publications when they want to break news. The stories these publications choose to publish are widely shared on social media and drive conversation. Their sub-sections—channeling readers to their interests—have the usual headers expected from a news organization: business, health, courts, lifestyle, sports, rural news, entertainment, opinion etc., but not one of them has a header for technology; an omission replayed in the government run Zambia Daily Mail and Times of Zambia. One exception is the online publication, Mwebuntu. It has a "Tech" header under which it publishes intermittent stories (months go-by between new stories) on topics that include the Cyber Security and Cyber Crime Bill of 2021, cryptocurrency, 5G Networks and PEGSUS spyware among other tech stories in line with headlines in other parts of the world.
Benefits of tech to Zambia
Creates new mega-wealth
The paucity of tech stories, let alone consistently published, and in-depth, says as a nation we have nothing or little to say on technology—we cannot afford this nonchalance. In June 2021, 8 of the 10 most valuable publicly traded companies in the world were tech focused companies by way of their products or services or both. The Big 5 tech companies (Microsoft, Apple, Amazon, Google, and Facebook) represent about a fifth of the U.S stock market.
And we now, in September 2021, we have over 800 unicorn startups, private companies valued at over $1 billion in world. This is breathtaking wealth and value creation happening around the globe. In Zambia we should aim to capture some of that value for ourselves; more important, we should work to grow the knowledge base and expertise to enable this type of value creation.
Secures jobs of the future
A tiny slice of this type and volume of economic output would mean high paying jobs for young Zambians. The projected youth population growth along with the Africa rising narrative, is the perfect milieu to build modernity and a future supercharged by the curiosity and headlong march into new possibilities characteristic of youth. The 1.3 billion Africans have an average age of 19, and more than half of global population growth over the next 30 years will happen in Africa. Declining birth rates and aging populations in developed countries mean a shortage of workers in these countries. The shortage is happening now in Japan, and in 2021 China (although China does not count itself among developed nations) relaxed the one-child per couple policy to allow up to three children to forestall a similar worker deficit in the next few decades. When Apple, Microsoft, Amazon, Tesla want workers in the future, they may well find them in Africa, and Zambia in particular, if we outfit our youth with the skills these companies will be looking for. Amazon is already constructing its African headquarters in Cape Town.
It's great that companies are establishing a physical presence in Africa, but there is also remote work. Disruptive and unwelcome as it was, the pandemic was a massive lab for a global scale study that made the case that work from home or, indeed, work from overseas schemes for companies of all sizes are among good options available to organize a workforce, and tap into a worldwide pool of talent. For any given high-tech company, home for any of its workers can be Nkana East in Kitwe or Chilenje South in Lusaka. It does not have to be Seattle, San Francisco, Tel Aviv, Bangalore, Kiev or Dublin as a matter of course. Without relocating and funneling through the H1-B Visa crush pen to land in Seattle or San Francisco, and whatever the equivalent of an H1-B Visa is in Tel Aviv, Banglore or Kiev, engineers from Nigeria working for Andela are proving they are able and available to do the job from Lagos: they could soon have peers teleworking from Lusaka.
The how of it
Find a place to stand on the tech hill
The top ranked tech centers in Sub-Saharan Africa, attracting founders and equity funding, are Lagos, Nairobi and Cape Town. There is no reason Lusaka cannot be another. We can surely find some suitable hill in the tech landscape to raise our flag on. BongoHive, an innovation and technology hub in Lusaka founded in 2011 is leading the way. Their stated mission is to work with great minds building viable solutions that change the world and to make Zambia Africa's next hotbed of innovation—a mission all Zambians with interest in tech and ushering Zambia into the league of innovative nations would do well to jump on.
A thriving tech sector has startups as a mark of its bona fides, and startups locate where there is, among other ingredients, an enabling culture, reliable highspeed internet, a pool of talent and a large enough potential market for products. Nigeria, Kenya and South Africa, the countries hosting the top tech hubs in Sub-Saharan Africa, have larger local potential markets as a big advantage compared to Zambia (we have highspeed internet and we can grow or attract the talent). However, Rwanda, with a population two-thirds that of Zambia and devastating civil strife in recent history ranks among the top 6 recipients of equity funding for startups in all of Africa in 2020. Zambia comes in at number 16.
A smaller population should not be an insurmountable obstacle to tech sector growth in Zambia. Rwanda shows there are other incentives to lure venture capitalist looking for opportunities to get returns on their money. Although VCs are not beating down the doors to invest in Africa yet, they have started looking for opportunities and coming over to talk with entrepreneurs to understand the market; where possible, they simply invest in local players as in the case of Mastercard and Rise Fund investing hundreds of millions of dollars in the mobile money business arm of Airtel Africa. Let Zambia find its niche and define its differentiating preposition and roll out the red carpet.
Develop local talent
To capture VC attention and keep it, we need to create a tech scene and environment that offers opportunities that are real and no riskier than those in other parts of the world. We must put in place the components that make a thriving tech sector happen. One key element is the presence of technology focused local talent. This is a necessary upstream checkbox in the tech-hub creation flow map.
In its various forms, tech is at the center or a big part of solutions to many world ills needing a cure. Slowing down climate change, lifting living standards, eradicating diseases, storage and delivery of renewable energy, and many other problems have an aspect of their long-term resolution residing in advancements in tech. Zambia requires now, but more so in the future, a local talent pool to understand and develop these technologies; at the very least understand them enough to implement and run them locally.
The local talent pool can be augmented by attracting seasoned talent from elsewhere like Silicon Valley, Cape Town, Nairobi etc. Creating the conditions for tech types, now with an abundance of options of where to live and work, to want to relocate to Lusaka, Kitwe, or Livingstone is a good place to start; hard to do in practice, but that pretty much about sums it all up—we need to be the place tech entrepreneurs and their workers want to be; like Austin, Texas or Cape Town, South Africa.
Teach our kids tech
The local talent pipeline starts with students in primary and secondary schools. Constant and deep tech conversations must happen around students along with the provision of information technology infrastructure in schools. Discussing technology in arresting and sufficiently knowledgeable ways, with passion and consistency, around students will awaken and switch them on to the range of careers tech offers, and what fun it can be tinkering with it. For most kids, exposure to and awareness of new things naturally leads to questions about their workings—What can the thing do? Can I make the thing do X or Y? Those questions look like the earliest stages of a solution to a problem.
Leaving it to happenstance to teach our kids tech at the pace of evolution will mean Zambia continues lagging Nigeria, Kenya, South Africa and other African countries in the depth of homegrown tech talent. Yes, aspects of the school curriculum, from first grade all the way to university, are computer studies in some form or other, but that effort and energy needs to be designed and focused on delivering discernable gains in student understanding of technologies and depth of knowledge. The pedagogical methods and goals should produce graduates who buy into autodidacticism as a lifestyle with knowledge at par with requirements of a world where machines are increasingly autonomous and can learn human skills and complement or replace humans. We must not only prepare students to pass exams, but for them to demonstrate penetrating knowledge by producing working deliverables—prototypes solving real problems.
Here is a quote from a decade ago from someone at the heart of the tech world who wears all the relevant hats in this conversation: software engineer, entrepreneur and investor:
…many people in the U.S. and around the world lack the education and skills required to participate in the great new companies coming out of the software revolution. This is a tragedy since every company I work with is absolutely starved for talent. Qualified software engineers, managers, marketers and salespeople in Silicon Valley can rack up dozens of high-paying, high-upside job offers any time they want, while national unemployment and underemployment is sky high. This problem is even worse than it looks because many workers in existing industries will be stranded on the wrong side of software-based disruption and may never be able to work in their fields again. There's no way through this problem other than education, and we have a long way to go. (emphasis added)
The last sentence was true in 2011 when this article was published, it is still true for the USA in 2021 and very much true for Zambia now.
Talk tech in the press
The press can play a key role in a national tech conversation, and in upskilling Zambians. Of course, news stories on tech policy or the inner workings of tech itself do not easily lend themselves to mass consumption. The stories can be esoteric and laced with jargon and lack the attention-grabbing pop of scandal or stories bashing bumbling politicians; stories that drive traffic to websites and newsstands. And because raw traffic numbers and clicks on a site attract advertising revenue, they incentivize the chase for the next viral story; virality then drives story selection at the expense of substantive stories that can be bookmarked or printed and saved for the future as one's private cannon of authoritative references.
Often the consumption and understanding of digital information by citizens amounts to popularity equals truth; a story's virality is its own validation. It would benefit society if the press can minimize this link and help push tech up the ranks in polls like in the image from News Diggers or at least elongate the bar:
It would not be a big loss if the politics bar was much shorter in proportion to the rest of the topics.
Increase internet penetration in Zambia
Availability of internet is key to modern innovation. It opens up resources and opportunities for collaboration across oceans and time zones. In Africa only 22% are connected to the internet—in Zambia only 17% of households had access to internet (ZICTA ICT Survey - 2018).
That means 83% of Zambian households do not and cannot participate in the new economy. We need to bring more of the 83% households into the fold and increase the number of citizens who are online accessing the infinity resources of the internet and improving their lives.
Provide public access points
In Zambia internet access is mostly via mobile; for creation and learning a lot more is feasible with a laptop screen or workstation screen and a standard size keyboard than thumb scrolling and typing on a mobile device optimized for portability and consumption of media.
Providing free 5G internet in major cities in places where enterprising student, entrepreneurs and citizens can access it—free to citizens; paid for by the government—will increase the number of Zambians online. Telcos, with an inherent commercial interest in growing their customer base, are logical partners here. School labs and public libraries and other such places can be setup as unrestricted internet access points for the curious motivated young minds to explore through unstructured learning in their own time. Labs with computers are already available in some schools, especially secondary schools, to go along with the government sponsored ICT curriculum—reliable highspeed internet is the next step.
Now, free internet would be open to abuse and could be recruited to commission all manner of unsavory activities, but the gains for Zambia from a citizenry literate in new technologies would be immense. One can access high level science, mathematics, writing, computing etc., curriculum from MIT or from many other universities and colleges across the globe.
Education is no longer about providing information—it's all freely available. It's about providing access to those that will. The current cost of data in Zambia does not allow sufficient exposure to high-quality information. Free 5G will bridge the gap.
Finally
On the policy front
To make any of the foregoing work necessarily requires planners in Zambia to take the long view of things—develop and launch a long-term national tech strategy. The USA, in the face of competition from China, is re-evaluating on a national level its approach to research in strategic areas of science and technology. The proposed Endless Frontier Act is the result of this re-thinking.
Part of the lesson for Zambia is that the most technologically innovative nation in the world, far ahead in the technology development game is not sitting down to leisurely take in the success of prior years but is exploring ways to double down with resources and policy so it can stay at the forefront of transformative advances in technologies. Zambia must get going.
This how we in Zambia can talk about tech, build local talent, participate in the lucrative tech sector, and help solve the world's pressing problems. Best of all, this how we begin to solve our problems.
---
To thank a friend who reviewed this piece and gave valuable feedback, I include here a link to a non-profit he supports: Restless Developmet. They are in Zambia too and are worthy of your support
---